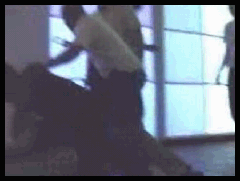 NAZI~LINE Representatives under pseudonym
bart-n-lisa.com] beaten down and disqualified
NAZI~LINE Representatives in beaten down in Vienna...

· Pictures [movie] [©.voortekk/ eyeriz.com ]
· Pictures [stills] [© carmen brucic/lovepangs]
· Press-Release NAZI~LINE
· Stealing Eyeballs - the lecture
NAZI~LINE CAMPAIGN WEB-SITE:
INTERNATIONAL LAUNCH: 05.05.01
NAZI~LINE CORPORATE WEB-SITE:
INTERNATIONAL LAUNCH: 05.05.01
NAZI~LINE REGISTRATION:
>> go to the registration...
Every neo-Nazi and hate criminal has the right to participate in this innovative programm.
THE PROGRAMM

right wing extremists [i.e. neo-Nazis] should experience economical and social warmth and support in order to be integrated into our society. additionally NAZI~LINE invests into psychological and medical treatment of neo-Nazis. International Corporations as well as neo-Nazis and hate criminals are kindly asked to register.
THE PARTNERS
NAZI~LINE is an integration programm funded by the european industry and the following companies and institutions: SIEMENS germany , .VOORTEKK, BAYER, SILVER SERVER, schlingensief.com, ZENTRUM DEMOKRATISCHE KULTUR , ubermorgen.com, esof ltd, /DEPARTMENT, IPNIC.ORG , MAZZOTTI ACTION and textz.com.